CyberASAP Year 7: Expert support to commercialise academic cyber security innovation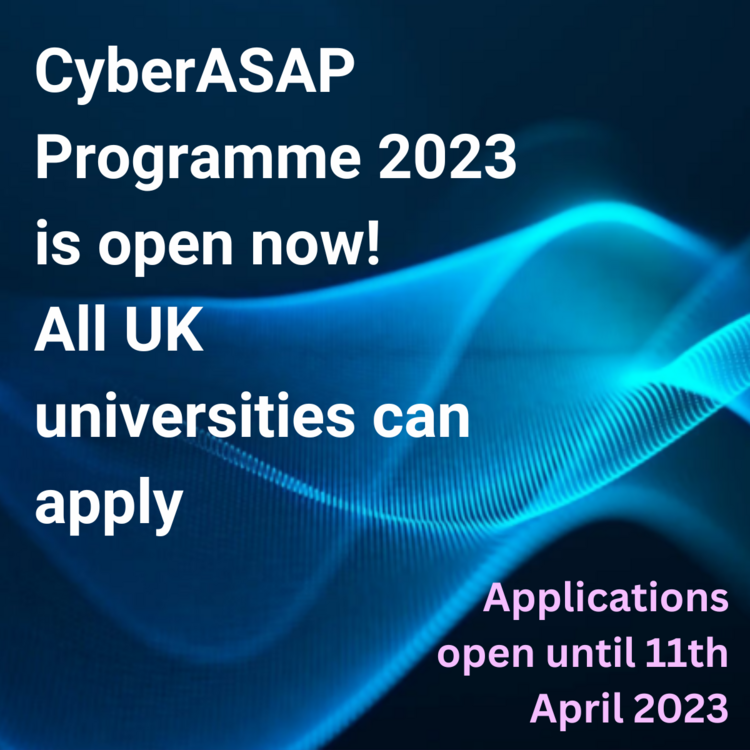 Now in its seventh year, CyberASAP provides academics with the expertise, knowledge and training needed to convert their research into technologies, products and services in this key sector of the global economy. The programme creates a pipeline to move great cyber security ideas out of the university lab and into the commercial market. Cohort 7 of CyberASAPs is now open for applications! UK cyber academics who are interested in joining the programme can find out more and apply by clicking on the button below. Applications close on 19th April at 11:00.
The CyberASAP Programme 2023 is funded by the UK Government's Department for Science, Innovation and Technology (DSIT), and delivered in partnership with Innovate UK & Innovate UK KTN. The programme has a proven track record of success, with previous participants achieving significant milestones, including investment, patents, and successful commercialisation of their products.
The CyberASAP Programme is an excellent opportunity for academic teams to accelerate their cybersecurity innovations from research to market. Through bespoke mentoring, training, and support from industry experts, this programme has a proven track record of helping teams turn their ideas into successful businesses.

We are thrilled to see what the seventh year's cohort will bring and excited to support the next generation of cybersecurity innovators.
Robin Kennedy, Innovate UK KTN, Co-Director – CyberASAP
Applications are welcome from all UK universities and teams are invited to submit their proposals at the latest by Wednesday 19 April 2023 at 11:00 am.
The successful teams will be announced in April, with a programme start date of 9 May 2023.
This programme supports the next generation of cybersecurity innovators and to help bring their ideas to market. Join us on this exciting journey and apply now to be a part of the CyberASAP Programme 2023!
For more information on the CyberASAP Programme and how to apply click here